Irene Wambui Mwangi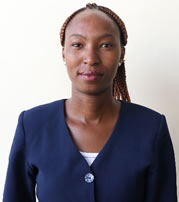 Name: Irene Wambui Mwangi
Title/qualification: Miss
Position: Senior Administrative Assistant
Department: Office of the Director, Board of Postgraduate Studies.
Short Biography: Miss. Irene Mwangi has worked in the Office of Director since January, 2016 and manages front office operations at the Directorate. She has competencies in planning, management and administration. In the Directorate, she is the Integrity champion, ISO champion, Procurement Liaison Officer, trained Fire Marshall and a trained protocol officer for the University and a member of the University Staff Choir. In addition to the above she is also tasked with coordination of meetings, conferences, seminars and workshops.  Miss Mwangi also assists in rapporteuring and drafting of reports and proceedings.